Colonoscopy is the endoscopic examination of the large bowel (colon) and the distal part of the small bowel (terminal ileum) with camera or a fiber optic camera on a flexible tube passed through the anus. Colonoscopy may provide a visual diagnosis (e.g. inflammation, ulceration, polyps, tumor) and grants the opportunity for biopsy or removal of polyps. The existence of polyps can only be detected via a colonoscopy. Polyps can change from benign to malignant over time. If left undetected polyps can cause colorectal cancer. Polypectomy has become a routine part of colonoscopy, allowing quick and simple removal of polyps without invasive surgery. Once polyps are removed, they can be studied with the aid of a microscope to determine if they are precancerous or not.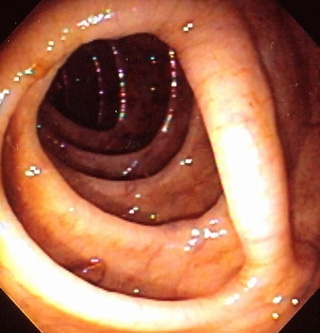 Colonoscopia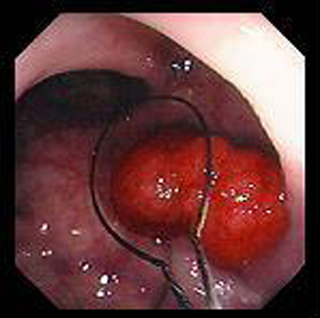 Colonoscopia polypectomia

Reason for procedure
Indications for colonoscopy include:
• Gastrointestinal hemorrhage, bloody stool
• Unexplained changes in the bowel movement habit
• Suspicion of malignancy
• Chronic diarrhoea
• Chronic constipation
• Lack of appetite
• Loss of weight
• Unexplained abdominal pain
Colonoscopies are often used to diagnose colorectal cancer, but are also frequently used to diagnose inflammatory bowel disease. In older patients an unexplained anemia (drop in hematocrit) is a strong indication to do colonoscopy. Fecal occult blood is a quick test (FOBT) which can be due to the test for microscopic traces of blood in the stool. A positive test is almost always an indication to do a colonoscopy. In most cases the positive FOBT result is just due to hemorrhoids; however it can also due to diverticulosis, inflammatory bowel disease, polyps or colorectal cancer. Due to the high incidence and mortality associated with colorectal cancer and the high efficacy and low risks associated with colonoscopy, it is now becoming a routine and most important screening test for people 50 years of age and older. Subsequent rescreening are then scheduled based on the initial results found, with a five- or ten-year recall being common for colonoscopies that produce normal, negative results.
What happens during colonoscopy?
The colon must be free of solid matter for the test to be performed properly. Before the examination the patient has to drink a laxative, to completely clean the large bowel. During the procedure the patient is often given sedation intravenously. The first step is usually a digital rectal examination, to examine the tone of the sphincter and to determine if preparation has been adequate. The endoscope (colonoscope) is then passed through the anus up to the rectum, the colon (sigmoid, descending, transverse and ascending colon, the cecum), and ultimatey the terminal ileum. The endoscope has a movable tip and multiple channels for instrumentation, air, suction and light. The large bowel is occasionally insufflated with air to maximize visibility. Biopsies are frequently taken for microscopic examination (histology).
In most experienced hands, the endoscope is advanced of the junction of where the colon and small bowel join up (cecum) in under 10 minutes in most cases.
The examination is normally done on out-patient basis. After the procedure, some recovery time is usually allowed to let the sedative wear up. Outpatient recovery time can take an estimate of 30-60 minutes. Most facilities require that patient have a person with them to help them home afterwards. The patient should not drive or operate machinery afterwards.