Definition
Helicobacter pylori (H. pylori) identifies a specific bacteria that can cause infection of the stomach. This infection can contribute to the development of diseases such as ulcers of the stomach and duodenum, gastritis (inflammation of the gastric mucosa), dyspepsia (heartburn, bloating, nausea) and gastric cancer.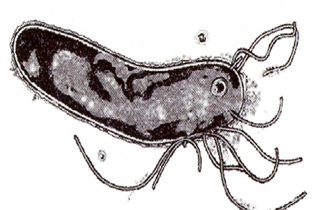 How is H. pylori diagnosed?
There currently four ways to diagnose H. pylori infection.
During endoscopy (gastroscopy) the physician (gastroenterologist) can take biopsy (which involves taking a small sample of tissue from part of the gastric mucosa; the tissue sample is then tested for the bacteria with a microscope).
A breath test (urea-breath test) is also available: a substance called urea is given by mouth. An enzyme produced by bacteria breaks down the urea into carbon-dioxide, which is then exhaled that can be measured.
The blood test can measure the protective antibodies against these bacteria that are present in the blood.
Finally, the infection can also be demonstrated from the stool.
When is treatment necessary?
Effective treatment with two antibiotics and acid reducing drug (proton-pump inhibitor-PPI) can prevent the recurrence of ulcers and the development of gastric cancer.