Definition
Gastroesophageal reflux disease (GERD) or acid reflux disease is defined as chronic symptoms, mucosal damage or complications produced by the abnormal reflux in the stomach. This is commonly due to transient or permanent changes in the barrier between the esophagus and the stomach.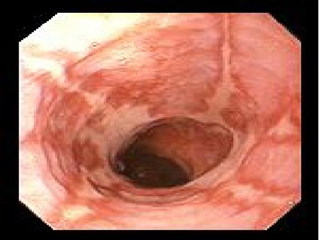 GERD

Symptoms
The most common symptoms of GERD are:
• Heartburn
• Regurgitation
Less common symptoms include:
• Dysphagia (trouble swallowing)
• Odynophagia (pain during swallowing)
• Chest pain
Atypical symptoms are also associated with GERD:
• Chronic cough
• Hoarseness, throat clearing (reflux laryngitis)
• Asthma
• Dental erosions
• Sinusitis
GERD can also cause injury of the esophagus.
These injuries include:
• Reflux esophagitis (erosions, ulcerations of the esophageal mucosa)
• Esophageal strictures (persistent narrowing of the esophagus, caused by acid-reflux induced chronic inflammation)
• Barrett's esophagus (precancerous lesion: changes of the esophageal epithelium)
• Adenocarcinoma (cancer of the esophagus)
Diagnosis
A detailed historical knowledge is essential. Esophago-gastroscopy (gastroscopy-EGD) is one of the most useful investigations. EGD involves insertion of a thin scope through the mouth and throat into the esophagus and stomach in order to assess the internal surfaced of the esophagus, stomach and duodenum.
Treatment
Certain foods and lifestyle are considered to promote GERD. Elevating the head of the bed, avoiding eating before bedtime, avoidance of smoking, weight reduction can be useful.
Proton pump inhibitors (PPIs) are the most effective in reducing gastric acid secretion. These drugs stop acid secretion, heal esophageal mucosal damage and relieve symptoms.