Definition
Peptic ulcer disease (PUD) is a very common disorder. An ulcer is an open sore in the lining of the stomach or duodenum. The stomach produces a very strong acid that helps to digest and break down food before it enters the small intestine. The mucosa of the stomach is covered be a thick protective mucous layer, which prevents the acid from injuring the mucosa of the stomach. Ulcers are usually caused by acid and pepsin, a digestive enzyme. Ulcers can occur in the stomach (gastric ulcer) or in the first part of the small intestine (called duodenal ulcer). Peptic ulcer disease (PUD) is the term used to describe either gastric or duodenal ulcers.
Helicobacter pylori (H. pylori) infection is the major etiological factor of PUD. The infection produces a chronic inflammation in the stomach allowing damage by gastric acid.
Non-steroidal anti-inflammatory drugs (NSAIDs) used for the treatment of arthritis and aspirin can also damage the mucosa layer of the stomach and can causes mucosal injury and finally, ulcers. H. pylori infection and NSAIDs are the two major factors that cause PUD.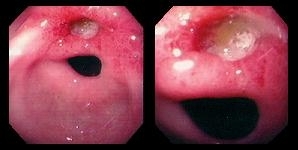 Peptic ulcer diseases
Symptoms
The most common symptom is the burning pain in the upper abdomen following a meal. The burning sensation and or pain can also occur during the night. Antacids and milk can temporarily relieve the pain. The presence of black stools indicate upper gastrointestinal bleeding, a very serious complication of PUD.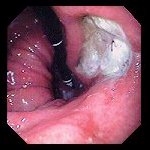 Peptic ulcer disease
Diagnosis
A diagnosis of PUD can be suspected from the medical history of the patients that should always be confirmed by upper endoscopy (gastroscopy). During endoscopy biopsy specimen can be obtained for the correct histologic diagnosis and for the determination of H. pylori infection.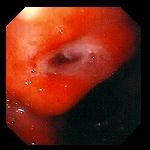 Ulcer disease
Treatment
Effective acid-suppressive therapy with proton pump inhibitors (PPIs) relieves symptoms and heals ulcers. The elimination of H. pylori infection with antibiotics and PPI can prevent ulcer recurrence.